Technical specifications of our boat.
NAVIVOILE, is a sailing maxi catamaran for "Passenger Transport" equipped for "Commerce", UNIQUE in the Pyrénées Orientales, thanks to its concept and eco-friendly propulsion method. Anyone who cares about the environment will love our boat as its fossil fuel consumption is significantly lower than average.
A few figures:
Length: 24,70 m
Width: 10 m
Draught: 1,90 m
Air Draught: 30 m
Lightship displacement: 33 Tonnes
Loaded displacement: 43 Tonnes
Maximum sail surface: 380 m2
Motorisation: 2 x 175CV moteurs Perkins
Rigging: MARECHAL Mâts
Deck equipment: Harken
Electronic: GARMIN
Gazole: 1800 l
Water: 800l
Passengers: 97 passagers 4th category / 83 passagers en 3rd category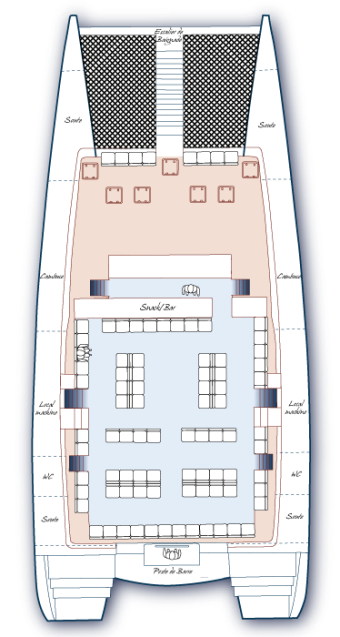 Our catamaran has been made with composite materials.
This catamaran "custom" is designed and equipped for the "Day Charter" navigation, in 3rd an 4th category. It is certified by Bureau Veritas and the department of Maritime Affaires, with CE norms.
Ultra-modern, it is sailed by 3 crew members, deck design studied for the safety of the crew and passengers.
The ship is equipped with a Snack/Bar service, situated inside the nacelle. And also a "small restoration" service during our mini-cruises, with "planchas" (barbecue) and buffet. The catering follows European Veterinary standards (DSV).
We dispose of 2 toilets and wash-hand basins for the passengers' comfort (no accessible to persons in wheelchairs).
A boat cover made of a fixed and a removable part protect passengers from the wind, bad weather or from the sun during the navigation and the anchorage.
Access for people with disabilities:
All the sea cruises are accessible to people suffering from the following disabilities: visual, auditory or mental and accompanied by a carer. For people with reduced mobility, the boat can accommodate two conventional wheelchairs (no motorised wheelchairs for accessibility reasons). Those people are strongly advised to avoid embarking on the "Barbecue and swimming" cruises as well as the "Whale and dolphin-watching" and "Sing with the dolphins" cruises, due to the toilets being narrow to allow wheelchair access.
Regarding the "Port Vendres/Collioure" cruise, please note that the little train is not equipped to carry passengers with disabilities. No type of wheelchair can be brought onto the train. Transport to Collioure will need to be arranged (at your expense). sachez que le petit train n'est pas équipé pour les handicapés. Tous types de fauteuils roulants sont interdits dans le train. Un transport (à votre charge) devra être prévu afin de vous rendre à Collioure.
Onboard safety rules:
No smoking is allowed on board EXCEPT in the smoking area at the back on the port side.
Running, jumping on the nets and jostling are prohibited.
Shoes must be removed before going on the nets located at the front between the two floats (maximum of 6 people per net).
Always hold on with one hand when moving along ("one hand for you and one hand for the boat"!).
The life jackets are located in the nacelle, stored inside the benches.
Two lifeboats are located at the back of the ship (2 x 50 seats).
On the "Barbecue and swimming" and "Sing with the dolphins" cruises, we would like to remind you that swimming is unsupervised and is entirely your responsability. Parents, please do not leave your children unsupervised on the deck or during swimming.
Les + NAVIVOILE: